Dr. Weihua Zhang
Dr. Weihua Zhang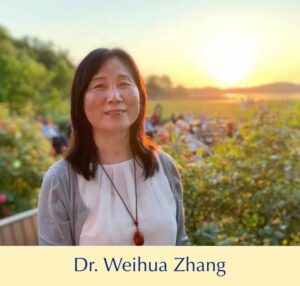 Dr. Weihua Zhang met Master Shangshi in October 2003 in her home town Changsha, China. Since her first meeting with him, she was deeply touched in her heart by the reality (Dao-quality) that Master Shangshi radiates. Since then she has been following his way of the 'Living Dao'. Every day she puts into practice what she learns from him, thus discovering reality deeper and deeper and living out of it.

Weihua is Master Shangshi's first German student and brought him to Germany in 2006. She translates his Chinese texts into German and works as a translator at his seminars. She assists Master Shangshi and leads 'Living Dao' in Germany.
Dr. Weihua Zhang comes from a family of physicians in China. She studied Traditional Chinese Medicine (TCM) there and Western Medicine in Germany. After several years as a lecturer and researcher at a university in China, she moved to Hamburg, Germany in 1993, where she obtained her doctorate. There she is now working as a TCM doctor for over 20 years. Her specialty is acupuncture, nutrition, herbal therapy and the combination of Chinese and Western medicine.
In addition, Weihua shares her knowledge and experience in seminars on Chinese nutrition and acupressure as a self-healing principle. She pays special attention to teach people how to prevent diseases and build up their vitality and life energy through this approach in healing.
To further expand and deepen her medical knowledge, she regularly attends advanced training courses with luminaries of TCM in China and around the world. She is a private student of Dr. Huang Huang, a renowned doctor who specializes in classical formulas from "Shan han lun". She is still searching to unravel the last secret of "Shan han lun" in order to get a key to easily cure even the worst diseases. She is also a private student of the pulse diagnosis master Dr. Leon Hammer.
Dr. Weihua Zhang works as a TCM doctor in Hamburg (Arthro Clinic), where she treats her patients holistically with acupuncture and Chinese herbal medicine and helps them with nutritional advice. She gives seminars all over Germany in which she shares her knowledge of TCM and 'Living Dao'. Together with Andrea Thiele and David Libor she heads the local groups in Hamburg.